A lot of people with sleep apnea do not do their prescribed treatment because they find that the CPAP mask is uncomfortable. Here's a solution that may make treatment easier for some.
A company called SeQual Technologies has joined up with CHI-SAN LLC to make available what looks to be a useful device for those who experience discomfort on the bridge of the nose as a result of the pressure of a CPAP mask.
The Sleep Comfort Care Pad is described as intended for patients with Obstructive Sleep Apnea (OSA) who experience pain and discomfort on or around the bridge of their nose associated with using nasal or full face masks. The pad acts as a cushion between the patient's face and mask, and is simply placed across the bridge of the nose under the mask.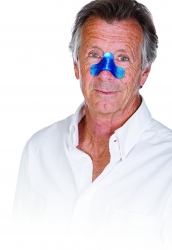 The pad is reusable and can be cleaned with soap and water.
The protective polymer gel pad is composed of USP grade mineral oil, is hypoallergenic, latex and silicone free.
This could prove to be a very useful solution to CPAP mask discomfort.